Division of Health and Environmental Sciences: DHES
A division of "Health and Environmental Sciences" comprehensively study covers humans, animals and the environmental health. This new field combines livestock health and public health. Rakuno Gakuen University is one of the forerunners in this field and has been selected as a Joint Collaborating Centre for Food Safety of the World Organization for Animal Health (WOAH) along with the Research Center for Food Safety of the University of Tokyo and the Veterinary Public Health Center in Singapore.
Under the philosophy of "Onehealth," which means the collaborative effort of multiple disciplines working locally, nationally and globally to attain health of that humans, animals and the environment, this field aims to offer practical learning opportunities focusing on disease prevention and control.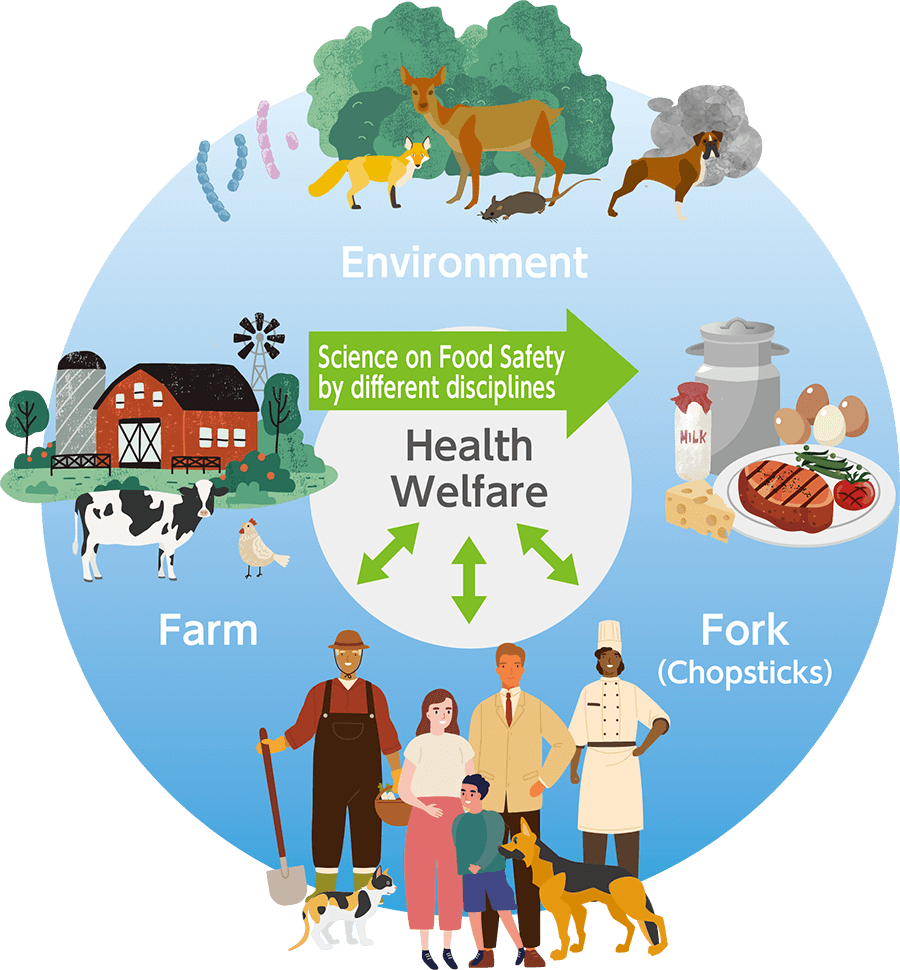 Veterinary Epidemiology
Problem-orientated approach and One Health are the key-concepts of the educational and research activities. The unit examines sociological and economical nature of a food safety problem in Japan and developing countries in Asia and Africa, and presents the solution by both quantitative and qualitative epidemiological investigations involving participatory methods, risk analysis and other epidemiological and economic analyses.
Veterinary Herd Health
This unit was newly established by professors of Division of Large Animal Clinical Sciences in order to reinforce the education and research in preventive medicine. Many veterinarians always support the supply of safe and reliable livestock products for the public. To perform and continue this important responsibility, it is essential to predict and manage the diseases of food animals in the farms. Veterinary Herd Health deals with the prediction and control of diseases and risk analysis in productivity from the point of herd level or region. As a research subject, this unit mainly focuses on dairy cattle management.
Environmental Health Sciences
We focus on environmental science issues associated with public health and interaction between surrounding environment and livestock animals including investigation of arsenic ground water contamination problem in India, toxic element residues in food and wild animals, spread of antibiotic resistant bacteria in livestock animals, and airborne microbes and co-existing environmental aerosols. All research topics are associated with the food safety issues under the One Health approach to safeguard the human food resources. Our unit tries to maintain the open minded research activities by collaborating within the university departments and outside institutes such as Hustai National Park in Mongolia and department of tropical medicine at Mahidol University in Thailand.
Food Microbiology and Food Safety
This unit is managed by Associate Professor Masaru Usui and Lecturer Akira Fukuda. This unit covers a broad rang in molecular biological studies of the microbial, antimicrobial resistance, animal diseases and food linkage. The main theme of this unit is the molecular epidemiology of antimicrobial resistance derived from animals. To resolve the problem of antimicrobial resistance among humans, animals, and environments,
1) We investigate the dissemination route of antimicrobial resistance from animals to humans.
2) We develop the detection kit for antimicrobial resistant-bacteria.
3) We investigate alternative method for using antimicrobials.
Results from these studies can be used to develop technology to contribute public health.
Animal Health
The main research subject of Animal Health Unit is prevention of animal disease in farm animals and it has three dimensions (see below scopes). Especially, this unit is researching about immunological studies on the control of bovine mastitis on dairy farm. Mastitis is a serious problem of dairy industry in all over the world. The purpose of the research is to develop the new method for the prevention of mastitis in commercial dairy farms.
1.Preventive research on animal disease in farm animals
2.Immunological studies on the control of bovine mastitis on dairy farm
3.Basic research on cow's mammary gland immune system
Zoonotic Diseases
Zoonotic Diseases Unit has been engaged in the epidemiologic surveys on zoonotic diseases caused by the infection with various bacteria, such as Coxiella burnetii, Salmonella species, Capnocytophaga canimorsus /cynodegmi. Also, this unit focuses on the research of zoonoses that farm animals play important roles as natural hosts and/or reservoirs.
Veterinary Ethics
Veterinary Ethics is the interdisciplinary study of ethical issues concerning veterinary medicine and practice. It deals with mainly legal, philosophical, and religious aspects concerning Veterinary Medicine.